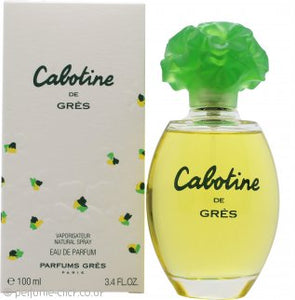 Gres Parfums Cabotine Eau de Parfum 100ml Spray
Cabotine by Gres Perfume is a floral fragrance for women.

The opening is a splash of ginger that develops into a freshly cut and watered flower bouquet. It is enchanting and quite strong so just a light spray will do the trick.

Ginger Lily or butterfly lily is at the heart of this composition. The flower is extremely rare and will only grow in the harsh high mountain climates, where it will bloom for a few weeks each year. The flower will only live for a few hours which make it rare and almost impossible to harvest. Cabotine was the first fragrance ever to use ginger lily in its composition.

Cabotine by Gres Perfume was launched in 1990.