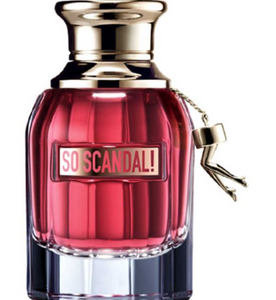 The new Jean Paul Gaultier perfume for her. So Couture. So Scandal!
What a scandal! How dare she? So outrageous. So Couture. The new So Scandal! Eau de Parfum cheekily reveals an even more extravagant and sensual femininity from Jean Paul Gaultier. Dining with the chic Parisian elite, she has the nerve to get noticed with an air of nonchalance wherever she goes. Her addictive lingering floral sillage is the talk of the town.
Ingredients
A so floral eau de parfum. So Scandal!
During the Couture evenings in Paris, a whiff of scandal is in the air. Outrageous, extreme, intoxicating. A burst of orange blossom, jasmine and tuberose strikes the senses with a sensual elegance. The addiction of its milky notes intoxicatingly envelopes them. An addictive floral sillage.